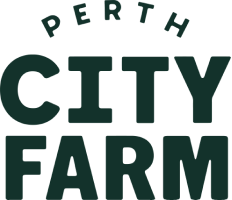 Earth Day at City Farm
April 21 @ 6:00 pm

-

8:30 pm

AWST
On the eve of Earth Day 2022, we want to celebrate some of the fantastic, inspiring environmental projects that are happening in Perth at this very moment!
It's easy to get lost in the doom and gloom when it comes to the environmental issues that we're facing in 2022… but you might not know about some of the innovative and ambitious projects & initiatives being pushed forward by passionate people right here in Perth! We want to take a moment to celebrate these projects and help visionary leaders connect with Perth residents who want to make a difference and work towards a sustainable future.
We will have 3 short presentations on the night, followed by an opportunity to network with some of the great minds in the Perth sustainability, land care and environmental scene. A bar will be open 6-8pm, and a plant-based menu will be available for the evening.
// OUR PRESENTERS \\
– Perth NRM 
is a highly regarded for-purpose organisation in the natural resources management (NRM) sector. They collaborate with governments (federal, state and local), community, academics and the corporate sector to deliver solutions to environmental issues. Perth NRM will be presenting on two projects on the night:
ReWild Perth is an initiative to 'Bring Nature Home' and encourage people to provide native habitat in their gardens, courtyards or balconies.
Gardening for Wildlife is a Citizen Science project with the aim of "turning gardeners into conservationists". This three-year project will engage with citizens to research the potential benefits of wildlife friendly gardening for native fauna and human wellbeing.
– Chris Ferreira (The Forever Project) & Matt Wallwork (Ecotecture) 
are in the midst of a ground-breaking project at the famous Hami Hill Sustainable Home. As the population of Perth grows, we continue to clear more and more natural bushland, destroy urban greenspace and pull down the very few beautiful trees that still grow in suburbia…. all in the name of urban infill!
The new Eco-Apartments in Hami Hill will prove that the status quo is all wrong. Soon, there will be 4 homes, 4 families and 40 trees all on Chris' one standard suburban block. The best part is… these apartments will boast the latest innovations in solar passive design and environmental architecture.
– Maryline Cassou 
is a Change Leader and consultant in sustainable development, Circular Economy, waste management, recycling and manufacturing. She's aiming to 'connect all the dots' and spur innovation to RETHINK, reduce, re-use, recycle and re-design waste and plastics, and transition towards a more Circular Economy.

Guided by personal belief and inspired by the quote "waste is a design flaw," she is putting everything she knows into innovating and collaborating in this space and founded both KITO Plastics (KITO Stands for Keep IT Onshore), as well as Precious Plastic Perth (the community education and engagement project).
These projects aim to:
create behavioural changes and help our community to RETHINK, reduce, re-use and recycle waste (particularly plastics) through community engagement and education. They want to help reduce the waste pollution in Australia and make our planet cleaner for a happier future
Innovate in the recycling and waste management industry and fill the gap between the recycling and the manufacturing sector, and demonstrate the economic, social and environmental benefits of circular economy in these industries.
// THE VENUE \\\
Perth City Farm is a 28-year-old Urban Farm enabling connected, sustainable lives. Established on a former industrial site in East Perth, this polluted site has been lovingly rehabilitated by volunteers to become a Western Australian icon for environmental sustainability and community engagement. We provide space and opportunities to build community connections, and educate and enable people to live sustainably.